One of the first metrics business owners try to improve to increase revenue is average order value. Pretty logical: the more a person spends per order, the more money you make. However, most people often buy only what he or she is looking for. In this article, we'll teach you how to increase your average order value through some strategies.
What is your average order value?
Average order value is the average amount a customer spends on an order. You can calculate it simply by dividing your store's total revenue by the number of orders placed. Keep in mind that this does not take into account marketing costs. For example: if your store has a total revenue of €3500 divided by 100 orders, this means that the average customer spends €35 per purchase with you.
1. Create an order minimum for "free shipping" or other gifts
This is the most common but very effective and easy way to increase your average order value. To calculate your order minimum, take your average order value and increase it by 30%. Eg: if your average order value is €50, with a 30% increase, it becomes €65. You can use this new figure to offer free shipping on orders over €65. With apps from the Shopify App Store you can easily add notifications when customers checkout and have not reached their order minimum for free shipping, this notification can help you increase your average order value.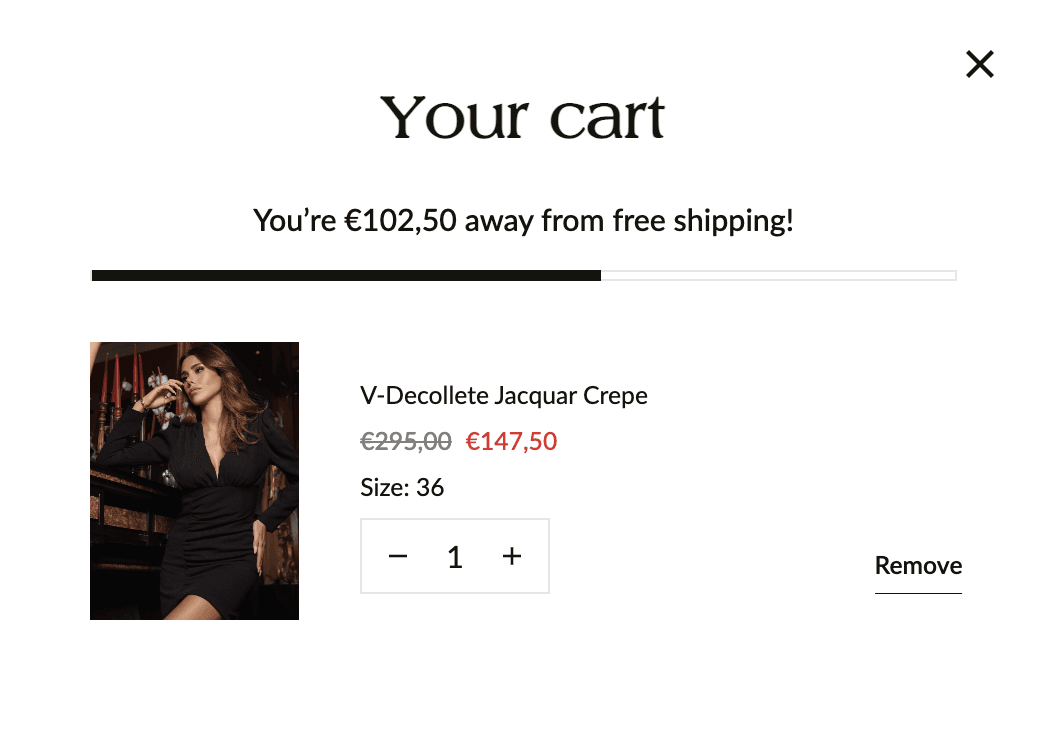 A variation on free shipping is to offer a fixed discount for orders over a certain amount. For example, you can offer a 10% discount or coupon for purchases over €75, 15% if you spend €100, etc. Very effective, but it makes your profits less predictable.
2. Bundle products or create packages
Offering bundle deals to your customers can greatly affect your average order value. For example, one such offer could be buy three and get a fourth free, or buy two and get a free gift. With bundle deals, make sure that you choose gifts that don't affect your margins too much (think of a $3 necklace, for example) and that you price your products so that you can cover the cost of the "fourth free". So try to put together bundles that cost less than if these items were sold individually.
3. Up- or cross-selling of complementary products.
Cross-selling is offering an item that a customer may like that matches the product they are currently looking at or want to buy. For example, if your customer is looking at a coat, you might have a handbag to match it. An idea for cross-selling is to add all the products the model in the image is wearing to your featured products; you have a greater chance of selling a combination if the customer sees multiple items together. Up-selling is when you encourage customers to buy more expensive items from the same category. This also applies to upgrades. For example, if your customer wants to buy an iPhone with a 32GB capacity, suggest a model with a 64GB or 128GB capacity. An effective way to upsell products is to sell more of the same product. For example, if your customer buys a coffee machine, suggest buying coffee beans with it.
This product is often purchased in conjunction with...
or customers interested in this product often also buy...
Add to your webshop is a way to help customers and an opportunity to increase your average order value.
However, don't overdo it in your offer, no one likes to feel like they are being oversold. Your upsells should be sincere and useful, so hand-pick items that best match the products in the customer's cart. To increase the likelihood of purchase, offer inexpensive upsells. If someone wants to buy between €50 and €100 worth of products, it's hard to convince them to spend an additional €100, you're better off convincing them to add a €20 product that matches their purchase.
Shopify apps for cross-selling and upselling your customers:
Zipify One Click Upsell. Built for Plus customers, this app increases average order value with one-click upsell offers.
CartHook Post Purchase Offers. Add native one-click promotions, including upsells and free gifts, to your Shopify store.
Post Purchase Promotions. Increase sales with native upsells after purchase and more.
Ultimate Special Offers. Create upsells for one-click offers directly in your store's checkout.
4. Offer deals for a specific time period.
You can offer a deal for a specific time period to increase average order value. For example, you can have a 2-day deal where your customers get a free gift or discount when they order for a certain amount. Although it only increases the average order value for a short period of time, urgency does help increase conversions and these types of deals are perfect for the slower periods.
5. Show savings on bulk orders
People love to save money. However, when your customers order large quantities, they can sometimes feel guilty about it. However, you can maintain a customer's high order value by displaying overall savings. This can prevent abandoned shopping carts or last changes to drop their amount.
If you show customers how much money they are saving per item with each addition, they will feel like they are scoring a deal. Showing people how much money they can save by buying multiple items can increase average order value, even if it's preventative.

6. Set up a loyalty program
The advantage of a loyalty program is that it helps build a relationship with customers who keep returning to your webshop. Every time a customer orders from your webshop, they can earn points or discounts for being loyal customers.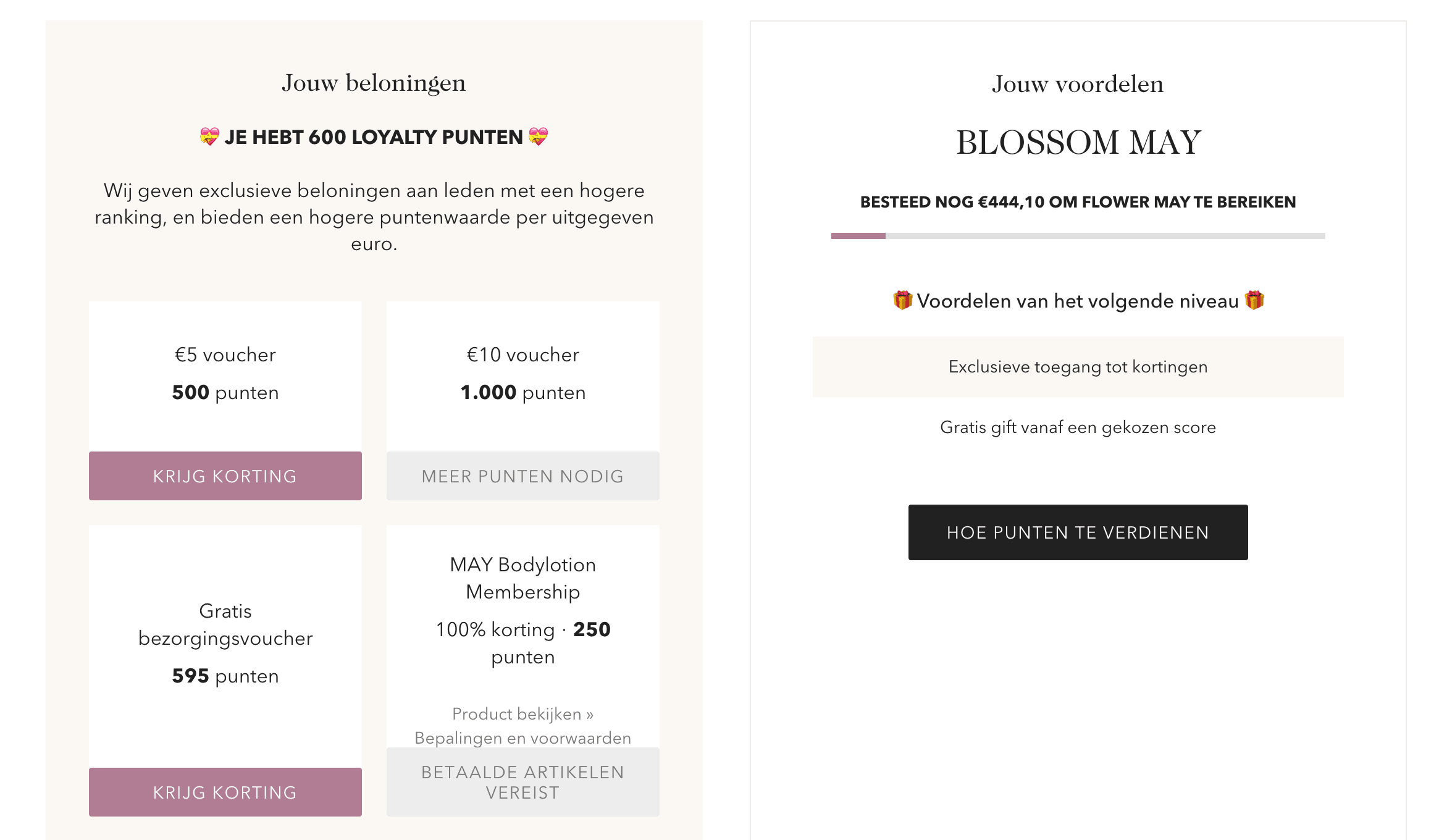 7. Offer live chat support for quick questions
By being available via live chat, customers' immediate questions can be answered, which means a greater chance of a sale and fewer abandoned shopping carts. Today, businesses that staff a live chat are selling more: 10-15% more per shopping cart.
Live chat is especially useful for higher-priced products, such as furniture, which may require more confidence to reach the checkout. As online businesses, we require our buyers to search and pay for products that are usually invisible. Product reviews, testimonials and other social proof can also help, but live chat can close the deal when it matters most. In addition, if you offer your buyers a way to contact you immediately, you're not just helping one sale, you're fostering a conversation that can encourage repeat or multiple purchases.