The business to business (B2B) e-commerce market is exploding. By 2025, it's expected that 80% of all B2B commerce transactions will happen online, and the value of the global e-commerce market will hit $7.7 trillion dollars USD. B2B e-commerce makes good business sense: Selling wholesale online, you have access to a global marketplace and the potential to create higher order volumes with less time and cost per sale compared to traditional direct to consumer (DTC) commerce.
Whether you're an experienced B2B seller expanding online, or entirely new to wholesale, Shopify Plus B2B has all of the features you need. Shopify B2B is built directly into the Shopify admin, allowing you to sell wholesale and DTC from one platform and store, using the full power of Shopify. You can combine Shopify's trusted, user-friendly e-commerce platform with the added functionality needed for B2B into one, easy to use solution, while accessing the customization tools that are unique to Shopify Plus.
This article will walk you through the core Shopify B2B features, blended and dedicated stores, the difference between Shopify B2B and Shopify Plus Wholesale Channel, and a checklist of things to consider when starting your Shopify B2B online store.
Do I need Shopify Plus for B2B?
Yes. B2B on Shopify is only available on Shopify Plus and is included in your Shopify Plus subscription at no additional cost. Shopify Plus prices vary based on the volume of your business. If you're interested in setting up a B2B online store, or want to upgrade to Shopify Plus contact us as a Shopify Plus Agency and speak to a Plus expert.
Shopify B2B Features
Let's take a look at 7 of the top features that come with Shopify B2B so you can harness the full potential of the e-commerce platform.
1. Company profiles
In Shopify B2B, companies are the business to business customers that you have assigned a company profile to.
With this feature, you can create a list of wholesale company profiles and add up to 50 locations per company. Each location can be customized to have separate price lists, payment terms, checkout options, and shipping addresses. This means that your B2B customers can log-in to your store, select the location they are purchasing for, and receive the prices, payment terms and shipping options that have been set up for that location, creating a curated experience for both buyer and seller.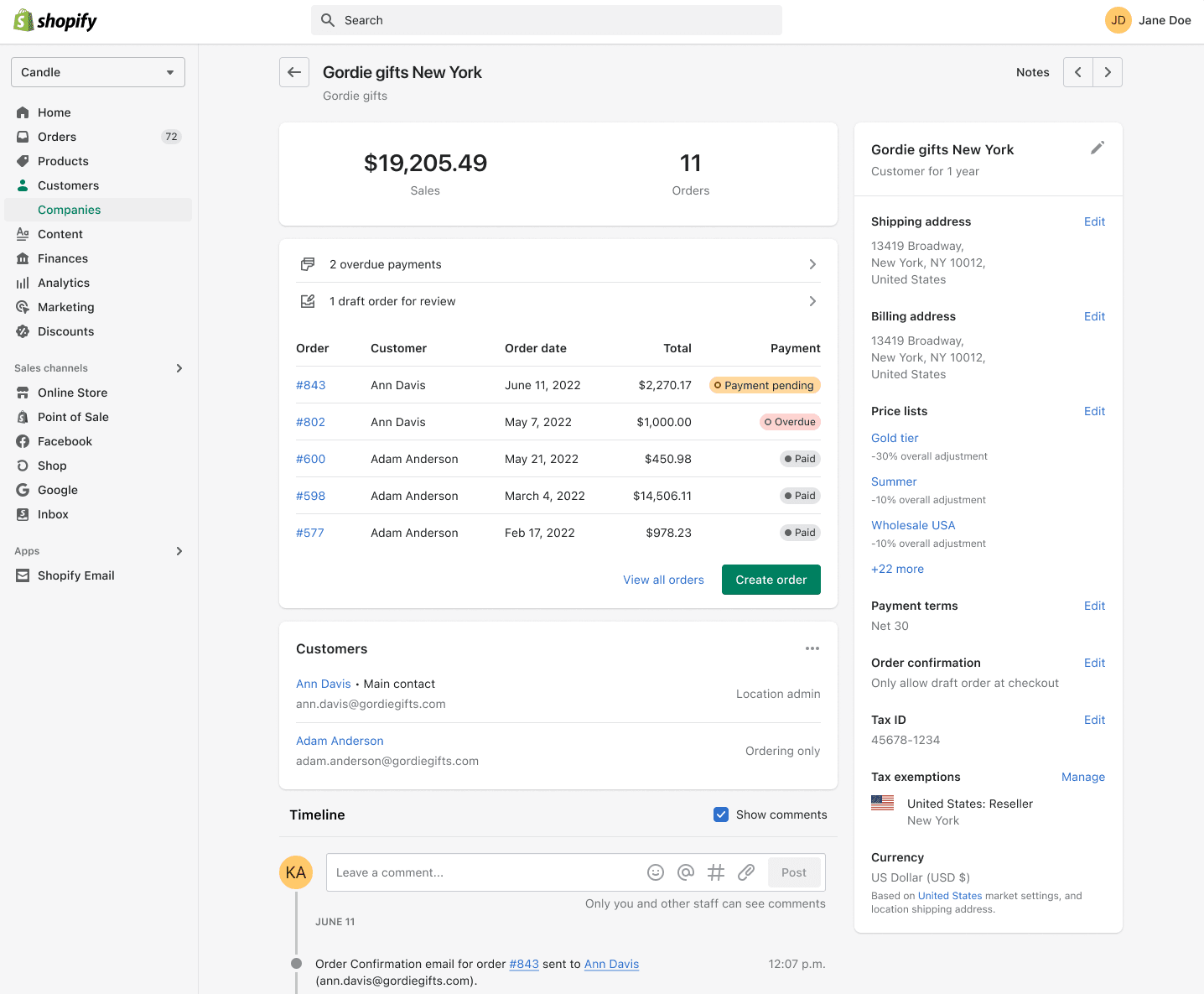 2. Price Lists
The price lists feature is a user-friendly way to set up custom pricing for your B2B clients without having to rely on complicated apps or tags. You can set fixed or percentage-discounted prices for all of your products, and offer unique price lists to different companies or locations. Price lists can contain both an overall percentage and fixed prices, allowing you to modify pricing on products that are more expensive to produce or where you are seeking a higher profit margin.
Shopify B2B wholesale allows you to create an unlimited number of price lists in your B2B store. You can assign a maximum of 25 price lists per company location.
3. Payment Terms
One of the most important parts of a commerce transaction is knowing when, and how, you're going to be paid for your product. Payment terms lets you set up the length of time a company has to pay for their order. This powerful feature is fully automated, meaning you can assign payment terms, sort and collect payment in the most efficient way possible by tracking data in your admin.
Each company location can be assigned a payment term. Currently, there are two payment options: none and net. None is the default payment term, whereby customers pay at checkout. Net is a flexible payment term, allowing your B2B customers to pay anytime between when the order is placed, and the due date that you have set. The available terms are net 7, net 15, net 30, net 60, and net 90.
4. Checkout and Self-Serve
If your Shopify Plus wholesale store is configured for both B2B and DTC, your customers will have different accounts in your online store. B2B clients will be prompted to login with their B2B account. From there, they can view the company and location information in their account, see wholesale price lists, and place and review their B2B orders.
The self-serve option will allow customers to manage aspects of their account on the buyer-side. Here, they can track their orders, and filter by date, order number, and status. B2B customers can also select the company location they are buying for, and edit buyer information.
You can set how your B2B clients access their accounts, depending on your needs. Options include updating your online store settings, sharing the login with your B2B customers directly or via a welcome email, and manually adding the URL to your online store nav.
5. VAT validation for EU businesses
If your B2B company is based in the EU, you need to be knowledgeable about VAT regulations and how to set up Shopify tax rules for B2B wholesale customers in the EU. VAT rules differ depending on who you sell to, and in which EU country, as well as the amount of sales you process in that particular country. Further, within your country, jurisdiction rules will deem some B2B transactions tax-free. For these B2B purchases companies must provide an exemption letter.
Rules for tax-exempt should be configured the right way at checkout. To do this, you can set up a VAT validation API to the checkout of your Shopify store. An external EU vat validation API can be easily connected to any custom field on the checkout page, adding an extra layer of security for fraud prevention.
DigiFist can help you configure these settings. Contact us and we'll be happy to help.
6. Managing B2B Customers
As the store owner, Shopify B2B wholesale provides you with tools to manage your B2B customers and how they can interact with your store. You control the customer permissions: You can select the company locations a customer will have access to, and add and delete customers from your store. Currently, a maximum of 10 customers can be assigned to each company location.
When a B2B customer logs in with a new customer account, they will be emailed a verification code. This extra layer of security ensures B2B buyers are authenticated before they can view wholesale products, pricing, and place and track orders, ensuring that your sensitive information remains with the customer authorized to see it.
7. Enterprise Resource Planning (ERP) software integration
Many large-scale B2B companies that onboard Shopify Plus B2B already have enterprise resource planning (ERP) software in place to organize product information, control inventory and track orders. Integrating this with other platforms, such as Shopify, can prove difficult and time-consuming for a business.
To remedy this, Shopify launched the Global ERP Program. This program gives high-profile ERP partners like Microsoft, Brightpearl and Oracle Net Suite the power to build a suite of certified apps directly integrated into the Shopify App Store, removing the need for Shopify Plus merchants to turn to third-party apps to connect their ERP to Shopify.
Shopify B2B is an evolving platform, with purpose-built B2B features continuously being developed and launched. Upcoming planned releases include B2B API rules, easy reordering, quantity price breaks, quantity purchasing rules to set product minimums and maximums, and contextual publishing to hide or reveal products to selected B2B customers.
B2B Wholesale: The difference between blended and dedicated stores
When setting up your B2B store on Shopify, you will need to decide whether you want to open a blended or a dedicated store. Both have advantages and disadvantages, so it's important to choose the one that is best for your commerce needs.
Blended: A blended store accepts both B2B and DTC orders. B2B customers must log-in and be authenticated via their B2B account to access wholesale pricing, products and checkout. This type of online store is good if you are looking to keep things simple: Data and information can be managed through one dashboard for both B2B and DTC, saving time and minimizing effort.
The downside of a blended store is that many features can't be segmented, and will apply to both B2B and DTC customers. For example, B2B and DTC will have the same online store experience; if you activate gift cards both B2B and DTC customers can use them, and shipping options and rates will be the same. A blended store is a good solution if you don't need different settings for your B2B and DTC customers. If you do, a dedicated store may be a better solution.
Dedicated: This is a separate online storefront used only by your B2B clients, allowing you to create a custom buying experience that is detached from your DTC store. With a dedicated store, you can set up unique B2B discount codes, notifications, themes, gift cards, shipping and rates. You can also pull analytics specific to your B2B customer base.
The benefit of a dedicated store is that you can clearly segment your business data and customer experience between your B2B and DTC online stores. The downside is that it is more work to set up and maintain: You will need to create a new store, manage the B2B and DTC stores separately, and retrieve independent data for both stores. A dedicated store is a good choice if you need to differentiate between your customer bases.
Shopify B2B vs Shopify Plus Wholesale Channel
Shopify B2B offers greater customization than the Shopify Plus Wholesale Channel and is the future of B2B selling on Shopify. B2B on Shopify is built directly into the Shopify admin, meaning the powerful tools and features available on your DTC store can be harnessed for B2B. By contrast, the Shopify Plus Wholesale Channel is a separate entity disconnected from the core Shopify platform. Its customizations are limited, and it does not have the functionality enjoyed by Shopify DTC and B2B.
In addition, the Shopify B2B marketplace allows the option of choosing a blended store or a dedicated expansion store and lets wholesale merchants access APIs to connect existing ERP's and CRM's. New features will not be added to the Plus Wholesale Channel as the focus is on Shopify B2B as the best online wholesale solution for buyers and sellers alike.
Considerations when starting your Shopify B2B store
The Shopify Plus B2B platform is continuously growing and evolving. Whether you choose a blended or dedicated B2B solution, it's important to note the following considerations when setting up your store: The maximum B2B order is 500 different products per customer, and each company location can have a maximum of 25 price lists. Subscriptions are not currently compatible, and B2B customers will initially need to log into your store with a new account which will be validated with an access code sent to their email.
The following is a list of features that are available on Shopify B2B but not included in the initial set up by default. Contact DigiFist if you would like these features enabled on your Shopify B2B store:
Gift card purchases
Discounts
Scripts that affect line item discounts
Recovering abandoned checkouts
Finally, the following is a list of features not currently available on Shopify B2B;
Local delivery
Accelerated checkouts
Tipping
In-store pickup for online purchases
Changing the customer for B2B order
Scripts affecting payments or shipping
Editing checkout.liquid file to customize checkout
Selling non physical products, like services
The online opportunity for B2B is massive and growing. Shopify B2B is the best ecommerce solution for your wholesale store. It's highly customizable, powered by the core Shopify platform, and lets you select between a blended or dedicated expansion store. With its impressive list of features, it's the B2B ecommerce platform you've been waiting for. Are you ready to set up your store? Contact DigiFist as Shopify Plus Expert to get started today.