E-commerce is the fastest growing segment of retail. Whether you are starting an online store, scaling, or looking to migrate, choosing the right platform is crucial to the success of your business. Two of the most popular solutions for enterprise e-commerce are Shopify Plus and Adobe Commerce Magento. In this article, we will compare Shopify Plus and Magento. It is important to take the time to do your research because you want to pick the platform that is best for your needs.
Platform Overview
Both Shopify Plus and Adobe Commerce Magento are among the best choices for growing and enterprise businesses.They are feature rich and power some of the largest brands in commerce. Should you choose Magento or Shopify?
Shopify Plus is a user-friendly Software as a Service (SaaS) product that offers a comprehensive suite of tools to help you build, grow and expand your online business. Shopify Plus is a hosted platform that uses Ruby on Rails (Liquid), and features regular, automatic updating with customizable themes and integrated API's. Offering enterprise level B2C and B2B capabilities, Shopify Plus caters to high-growth, high-value merchants seeking a long-term e-commerce solution. Many notable brands such as Allbirds, Heinz and Gymshark use Shopify Plus.
Magento 2 is an open-source e-commerce solution owned by Adobe. You can select between two versions: Adobe Commerce, which is an on-premise option, and Adobe Commerce Cloud, a hosted platform version. Magento is a platform-based service (PaaS) and uses PHP on the Zend Framework. Magento has great flexibility and is highly customizable while maintaining the core code. Because it is open source, Magento requires frequent updating, and is more complex than Shopify Plus to use. Companies that use Magento include Colgate, Nespresso and Ford.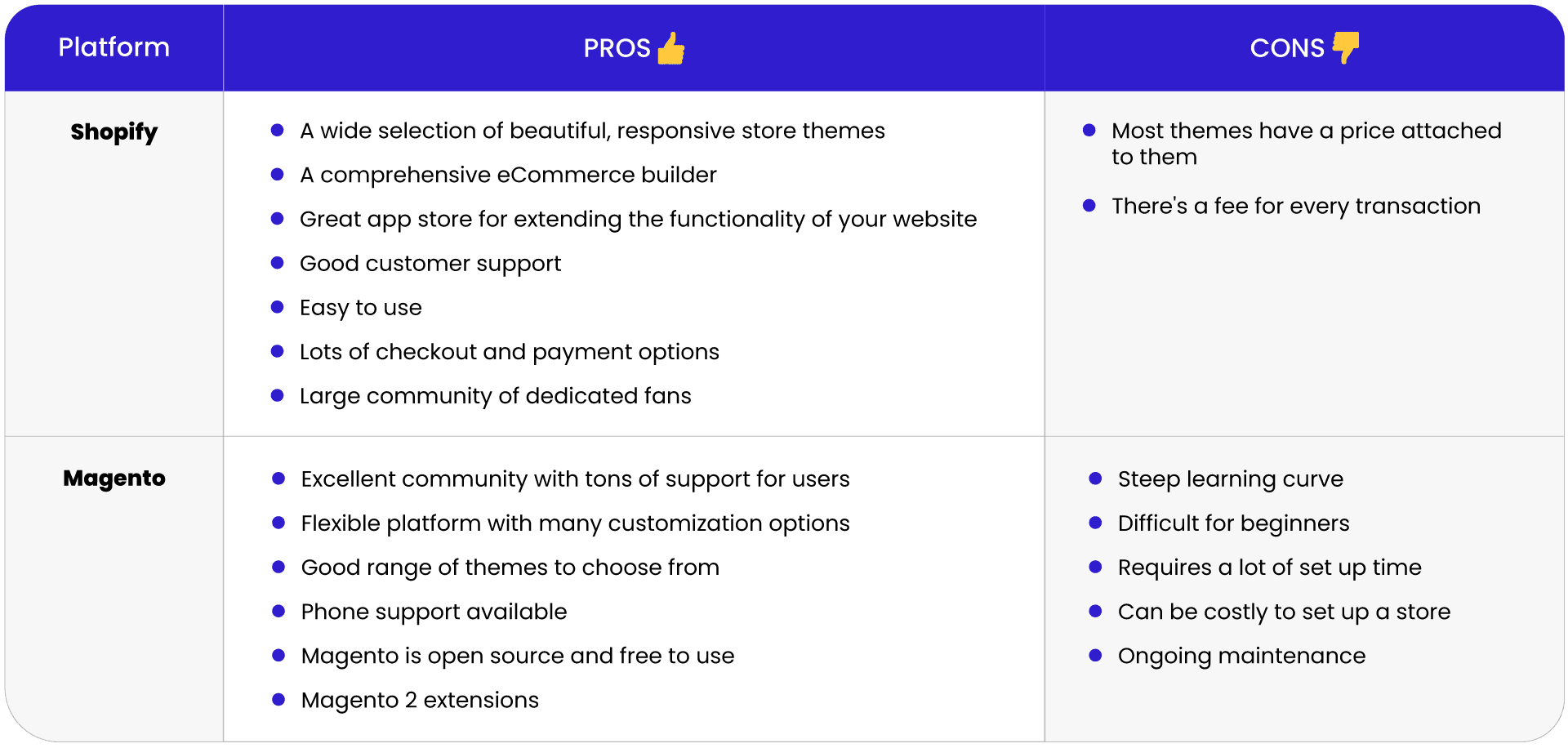 Comparing Shopify Plus and Magento
We will look at the major differences between Magento and Shopify to help you decide what is the best investment for your business. Both Magento and Shopify have their pros and cons, however data shows that Shopify is the more popular choice with merchants. According to 2022 research provided by SimilarTech, when comparing Shopify vs Magento, Shopify has 543,364 live websites, while Magento has 93,278. What makes Shopify the preferred choice?
1. Ease of Use
Shopify Plus is much easier to use than Magento, which is appealing for merchants who want to focus on their business, and not on development. Shopify Plus gives you access to a variety of beautiful, responsive themes that are customizable so you can build the online store of your dreams without needing to have a deep understanding of code. The admin panel is user-friendly, allowing you to easily add updates to your store, like new products, or train an employee to do it.
With Magento commerce, the learning curve is steep. It's open source, so it's a much more complicated platform than Shopify to use. You will most likely need an experienced Magento developer to custom build your store and be retained to perform necessary, regular updates post-launch. Because of this, it may be difficult to build the store you envision on Magento, and you will not be able to easily perform updates as your store grows.
2. Security Updates and Patches
When it comes to comparing security updates and patches for Shopify Plus vs Magento, Shopify Plus comes out on top again. As mentioned earlier, Shopify Plus is a SaaS solution, while Adobe Commerce is open-source. Shopify will automatically push security updates to their system. This is great for both merchants and customers because you can rest assured that your site will stay secure. Further, because these updates happen automatically, there is no risk of your site suddenly going down because you missed scheduled maintenance.
Magento 2 is open-source: this is exciting from a tech perspective because it means it is a robust platform that is continuously being upgraded. However, this benefit may also be a detriment if you are a merchant because it affects reliability and is costly to maintain. For high-volume merchants, maintenance on Magento can often be a daily task. Constant security patches, complex hosting, high developer costs and lead times are some of the major drawbacks. Updates can happen suddenly: your site might crash during a peak sales time, or customizations you've painstakingly built might break during an upgrade. In short, be prepared to spend a lot more time and effort maintaining your site if you choose Magento over Shopify Plus.
3. Adding new functionality
When adding new functionality, most merchants are looking for great useability that is simple to install. With Shopify Plus, integrations and new functionality use available API's, meaning non-technical users are able to install them. Shopify apps are known for being high-quality and thoroughly tested.
Magento enterprise does have more extensions than Shopify Plus, but the process to install them is much more involved and labour intensive. Similar to performing site upgrades, when adding new functionality you will most likely need to bring in a magento developer, have them install the new functionality locally, push to staging, test, then deploy, costing you time and money.
4. Themes
Themes are important because they form the look and feel of your store. Shopify has over 100 themes.They feature different styles and layouts and can be customized for various use cases without going into the code, making them very user-friendly. Shopify themes look great on desktop and mobile which is important because research shows that 80% of smartphone users have made an e-commerce purchase in the last 6 months. While a few themes are free to use, a downside with Shopify is that you will need to pay for most themes. They range in price from $140 - $350 USD.
Magento also has an excellent range of themes to choose from. Out-of-the-box themes that don't require customization cost $100 USD on average. If you're looking for a custom theme, be ready to open your wallet: Custom themes run from $600 - $45000 USD.
5. Marketing
You've built a great e-commerce store, now you need customers to find it. Effective marketing is essential to the success of your business and growth of your brand. Shopify understands this and offers a suite of marketing options that far outshine Adobe Magento, once again leading the pack as the more thorough e-commerce solution.
Some of the marketing options available to you as a Shopify merchant include being able to sell directly on social sites like Instagram and Facebook, multilingual marketing to sell in a variety of languages, and Customer Engagement Tools. And best of all, these marketing tools offer easy installation with app installs. The Shopify app store is always up to date and is very secure compared to Magento.
Magento does offer marketing tools but they are less sophisticated and not as easy to use. Most options can be found on Marketplace, and you will most likely need a back-end developer familiar with Magento to integrate them.
6. Technical Debt
Technical debt is defined as the implied cost of rework by choosing a limited solution, instead of choosing a better option that might initially take longer but save time and money in the long run. Because of the need to continuously update Magento, when comparing Shopify vs Magento, there is a deeper technical debt associated with Magento.
The rapid iteration of Magento 2's open source code means constant updates, most of which you will require a developer to do. These updates, if not addressed in a timely manner, run the risk of crashing your online store, affecting sales and disrupting your customer journey. You don't have this technical debt with Shopify Plus: it is simpler, easier to use, and updates automatically, so you can expect less hiccups post-launch.
7. Pricing
When comparing Shopify vs Magento 2, the direct software costs can be similar, especially if you factor in payment processing fees. Both platforms have a base transaction fee, billed monthly or yearly, and a licensing fee which is determined by transaction volume.
The Shopify Plus pricing structure is straightforward: Shopify Plus starts at $2000 USD a month, and charges a third-party transaction fee. For example, if you use PayPal, you will pay 0.15% per transaction. You can use Shopify Payments for free. Shopify Plus is a hosted platform, so all hosting payments are covered by your subscription fee. Contact us to learn more about Shopify Plus pricing.
By contrast, prices for Adobe Magento Commerce start at $22 000 USD a year, and $40 000 USD a year for the cloud-based edition. Like Shopify Plus, Magento commerce calculates the final sale price based on average sale volume for your business. While initial software costs may be similar, as talked about above, there is more technical debt associated with Magento which makes it the more pricier option long-term. These costs include hosting if you choose Magento Commerce, initial development, design and deployment of your site, as well as the reliance on a Magento developer to perform regular, ongoing maintenance and security updates.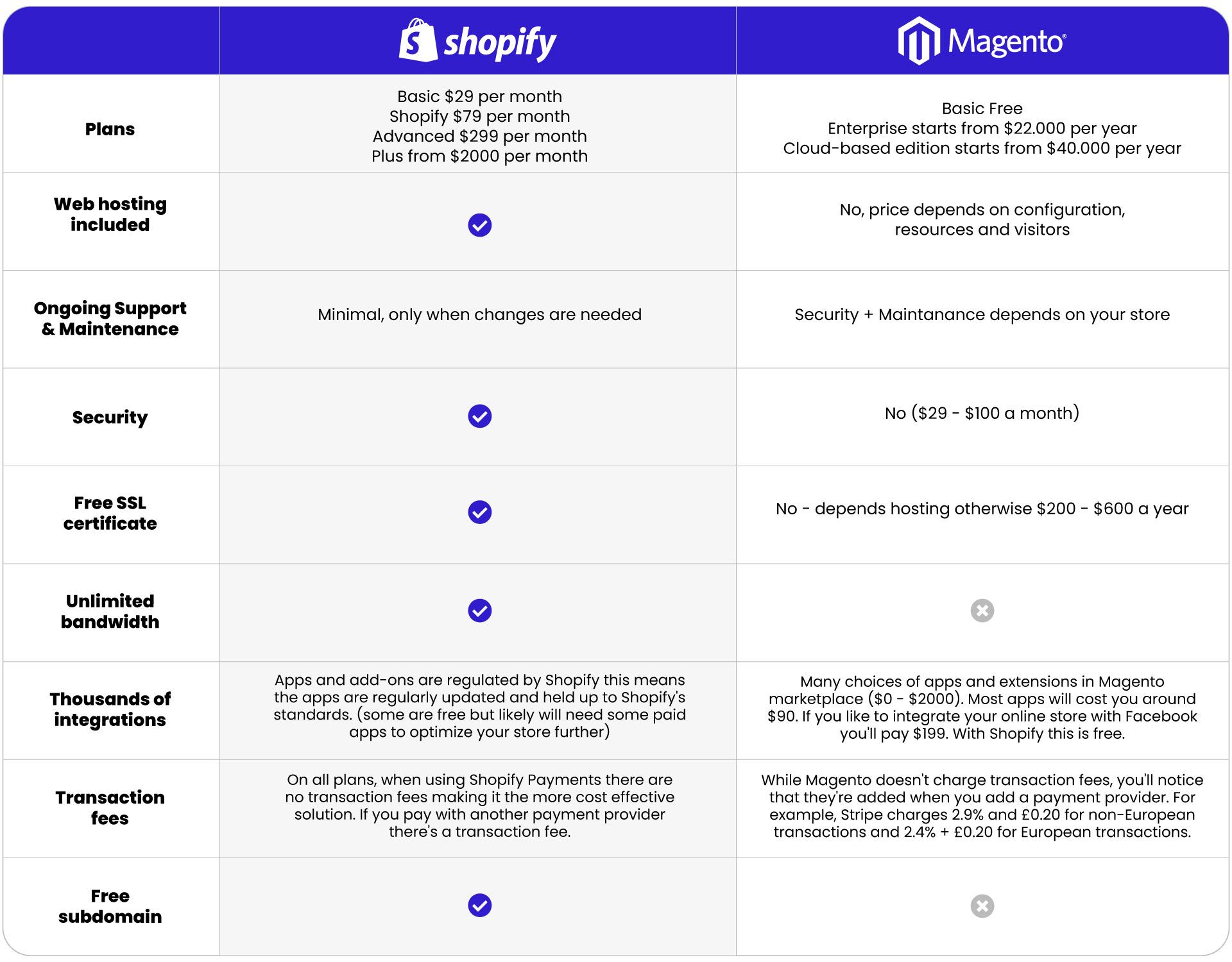 Looking to migrate to Shopify Plus?
Merchants are transferring their e-commerce stores from Magento to Shopify. It's the better overall solution for business owners who are looking for a simple, easy to use platform that minimizes ongoing maintenance costs, and offers all of the key functionality you would expect in an enterprise solution including B2B, B2C, and international selling.
If you're thinking about transferring your business to Shopify Plus, work with a trusted partner to help plan the scope and timeline of your migration. Consider how you can improve your existing e-commerce store by exploring the features that come with Shopify Plus. Shopify offers a 14-day free trial to help introduce you to the platform. Why not try it out now to see what Shopify has to offer. Contact us to learn more. We'd be happy to assist you.