Shopify is one of the most popular e-commerce platforms on the market. Trusted by more than 1.75 million merchants, the platform lets businesses of all sizes sell their products online. Shopify has a number of plans, from Basic up to Shopify Plus. How do you choose between them? What are the differences between Shopify and Shopify Plus?
The core Shopify plan is a great choice for small and medium sized businesses looking for a simple, cost-effective way to power their online stores: it has a selection of user-friendly templates, customization options, and excellent customer support.
As your business scales, that's where Shopify Plus comes in. Shopify Plus is a supercharged experience, designed for enterprise-level businesses. An omni-channel platform, it has all the same, core dashboard and supports as Shopify, while offering additional exclusive features, including high customization, superior functionality and dedicated customer service. In short, if your business has outgrown Shopify's core plans, and you're looking for a way to elevate how you sell, ship and process payments, then Shopify Plus may be for you.
Shopify vs Shopify Plus: Which is right for you?
Let's deep-dive into Shopify Plus to learn more about what it offers. Rather than comparing Shopify to Shopify Plus, we're going to focus on 13 Shopify Plus features that make it the best choice for enterprise-level business:
1. Shopify B2B and Wholesale Channel
Merchants on the Shopify Plus plan have exclusive access to B2B on Shopify and the Shopify Plus Wholesale channel.
Shopify B2B is a powerful tool that lets you leverage Shopify to expand your customer base by selling business to business, through your online store, without requiring third party apps or workarounds. You'll have access to the most customizable features of Shopify stores including custom themes, API's and discounts.
You can create a blended store, to service B2B and direct to consumer customers (DTC), managing both from a single platform. Or, you can create a dedicated expansion store for B2B only. Whichever you choose, Shopify B2B will allow you to set up the list of companies that you sell B2B with, create a price list with custom pricing for companies, set payment terms unique to your customer, manage access to your store, and set up a B2B checkout.
Similarly, the Shopify Plus wholesale channel creates a separate, password-protected storefront that's an extension of your online store, allowing you to grow your business into the wholesale arena. Only available to merchants on Shopify Plus, the wholesale channel lets you take the products you sell in your online store, and customize pricing for wholesale customers. You can also offer wholesale only products to target this audience. Your wholesale customers and orders can be managed through the admin on your Shopify store.
2. Script Editor
Making a meaningful connection to customers is essential to success. Script and the Script Editor app offers customers a bespoke cart and checkout experience. Unique to Plus plans, this personalization helps foster a dedicated consumer base and encourages repeat sales by having the ability to surprise and delight customers.
Scripts are small pieces of code, written with the Shopify Scripts API, which uses Ruby. The Script Editor app lets you write, publish, edit, test, debug and manage scripts. You can write the following 3 types of scripts: - Line Item Scripts: Used to implement discounts and modify prices. These scripts run when an item in your cart is changed, added, or removed. - Payment Scripts: Used to rearrange, rename or hide payment gateways. These scripts run when your customer clicks on the payment method page at checkout. - Shipping scripts: Used to discount shipping rates or modify shipping methods. These scripts run on the shipping options page at checkout.
Script editor is a powerful tool that is quickly gaining popularity with Plus merchants because of the flexibility it gives to control store branding and offer customers a customized cart and checkout experience.
3. Expansion Stores
Shopify Plus supports the creation of expansion stores. These are additional stores created under the same company so you can sell internationally, in different languages and currencies, in separate physical locations, and to wholesale clients.
For example, you could set up a UK and German version of your store. Expansion stores gives you the flexibility to split up your store to its specific region. So, in this instance, you could grant your UK staff permission to access the UK store, without giving permission to access the German store. This gives you more control over your brand and how you sell.
Shopify Plus merchants can build up to 9 expansion stores and sell in 20 languages.
4. ShopifyQL
Being able to make data-driven decisions is a fundamental piece of running a business. But data analytics can be difficult to understand if you are not a data scientist. With this in mind, Shopify created ShopifyQL, a data querying language exclusively for Plus merchants.
ShopifyQL is designed to make retrieving and analyzing commerce data accessible for non-technical users. It allows you to easily create year-over-year analysis in one statement, reference commerce date ranges without having to remember exact time-frames, visualize data in a chart or graph, and build data sets that explore all aspects of the commerce spectrum, from products, to orders and customers.
5. Launchpad
Launchpad is a robust automation app which makes planning an event stress-free by allowing you to schedule events like a product release, sales campaign or flash sale from start to finish. Only available to Shopify Plus merchants, with Launchpad you can automate a number of event tasks including increasing inventory at the start of an event, modifying pricing at the beginning and end of the event, and scheduling shipping scripts to trigger discounts at checkout. In addition, while the event is running, you can track metrics in real-time via the app's analytic dashboard.
6. Customizable themes + Liquid
Shopify's vast array of user-friendly themes are one of the platform's strongest selling points. Themes allow a merchant to find a template that suits their store and easily implement it. Standard plans allow for some customization yet it's difficult to swap to an entirely different theme.
With Shopify Plus the sky is the limit: you can add up to 20 themes and 50 templates to your account, test-drive new themes, and save versions of published themes so you can easily deploy them again. This high degree of customization is thanks to Liquid - an open source template to edit HTML or CSS to pull dynamic information into your themes. This gives you greater control over the look and feel of your store, and ability to tweak it to suit your needs.
7. Access to Shopify POS Pro App
Expanding your business beyond e-commerce can maximize your access to customers. Shopify POS Pro is included free for all Plus members as part of your Shopify Plus fees. Whether you're selling at a pop-up, market or other brick and mortar location, Shopify POS for enterprise will power your retail experience. It's wireless, so you can process sales anywhere in the store, offers a variety of payment methods, and has competitive rates.
Better yet, this powerful app syncs with Shopify to keep track of orders and inventory across all of your sales platforms including online, retail and social, offering unparalleled visibility to your sales data and customer behavior. This means you can view your analytics for online and in-store in one centralized place, integrate loyalty programs, and retrieve customer profiles to see order history and purchase location.
8. More sophisticated API resources
One of Shopify's strengths is its ability to seamlessly integrate with third party apps. Shopify Plus allows additional API resources that can integrate with custom apps, giving you more options and increased flexibility for your store. These include: - GiftCard - An app to create and manage gift card codes. - Multipass login - Simplifies the user experience by redirecting visitors from your website to Shopify store without asking them to login again. - User - A resource to help manage your store, this app lets you retrieve information on staff permissions, as well as add, remove and edit staff accounts.
9. Dedicated launch support
Shopify is known for its excellent customer service available via phone, live chat and email. This support is amped up for Plus users who are given dedicated support through the Shopify Plus Launch Team and Merchant Success Team.
A Plus exclusive, the Launch Team will advise on everything from how to build your store, to custom integrations, data migration and third party tech recommendations. They'll also share best practice testing and go-live strategies to help launch day go off without a hitch. Once your store is launched, you will transition to the Merchant Success Team. This team of specialists are Plus experts that will help you to grow and scale your business for long-term success.
10. Unlimited staff accounts
As your store scales, your need for staff will too. The Shopify Plus plan gives unlimited staff accounts, which lets merchants grow their staff without incurring additional costs. This is in contrast to the basic Shopify plan which allows a maximum of 2 staff accounts.
Merchants on the Plus plan are also granted additional permission settings to better control what staff has access to in the Shopify admin. This covers everything from export permissions to accessing specific apps.
11. Integration with existing platforms
Shopify has been developed to allow apps to easily be added to stores. However, for established businesses, integrating existing platforms may be more desirable. Using Shopify's API, Plus members can do this. This includes platforms for third-party logistics (3PL), customer relationships management (CRM) and inventory and order planning (IMS and OMS).
Additionally, some integrations, like Tax services with Avalara AvaTax, are available to Shopify Plus plan users only.
12. Enhanced Store Management
All Shopify merchants have access to Shopify admin to manage their stores. Shopify Plus members are treated to an enhanced version, the Shopify organization admin.
This upgraded admin lets users manage their stores at the operational level. This is perfect for merchants with more than one store because you can review analytics, edit workflows and control user management for multiple stores from a single location. Those not on the Plus plan need to manage each of their stores individually.
13. VIP Member Support
Shopify Plus caters to high-growth merchants and brands. As a Plus member you will have access to exclusive supports not available to other Shopify clients. These include: - Membership to the Shopify Plus Community on Facebook - A private group to network, strategize and collaborate with other Plus merchants.
- Enrollment in the Shopify Plus Academy, a learning hub exclusively for merchants on the Shopify Plus plan. Self-directed, these online courses help merchants learn more about Shopify Plus, e-commerce best practices and technical integrations to help scale their business. - Access to the Shopify Plus Partner Program - A network of high-value service partners hand-selected by Shopify to provide technical expertise and solutions to support continued business growth.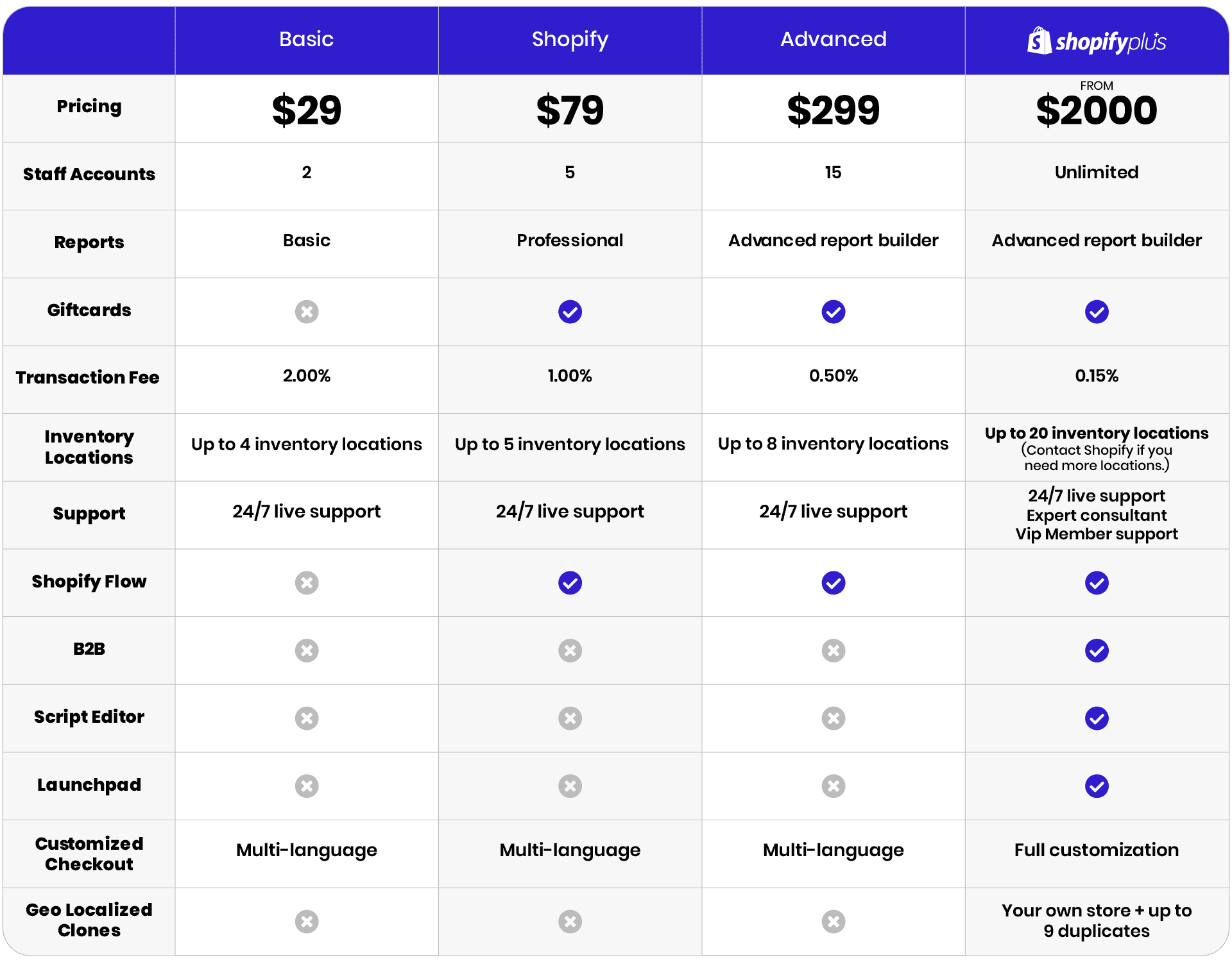 How much does Shopify Plus cost?
With an impressive list of high-impact features, it's easy to see the value of Shopify Plus for your business. But how does this translate into price?
Pricing for standard Shopify plans is straightforward. There are three standard plans: Basic, Shopify and Advanced. Each has a flat price structure, regardless of sales. You can try them for free for 14 days, so it's easy to pick the best plan for your business.
Shopify Plus prices are more specialized as the total cost is based on sale volume. Cost for the Shopify Plus plan starts at $2000.00 USD a month, with a variable fee for high volume businesses.
What about Shopify Plus transaction fees? Shopify charges .15% per transaction to use a third-party payment provider. This transaction fee is used to offset security requirements and is waived if you use Shopify Payments.
Shopify also charges a small fee to allow your customers to pay by credit card. Shopify Plus credit card rates are different for online and POS because of varying security and risk management concerns.
To find out how much Shopify Plus costs for your business, contact DigiFist and speak to a Plus expert.
Upgrade to Shopify Plus
Shopify is a trusted, user-friendly platform that powers e-commerce businesses of all sizes. Both the standard Shopify plans and Shopify Plus have the same core offering in terms of dashboard and basic functionality. Shopify is a great choice for small and medium businesses looking for an affordable, user-friendly way to sell online.
Where Plus shines is in its ability to cater to enterprise level business: It's adaptable, built for change and offers the increased customization, exclusive features, and partner support that large businesses need. Whether you want to sell B2B and wholesale, create expansion stores, or are looking for a customizable solution, Shopify Plus will arm your business with the best platform to grow and scale.
Are you ready to grow your business? DigiFist is a Shopify Plus agency. Let's talk.